Back to all posts
Posted on
World Suicide Prevention Day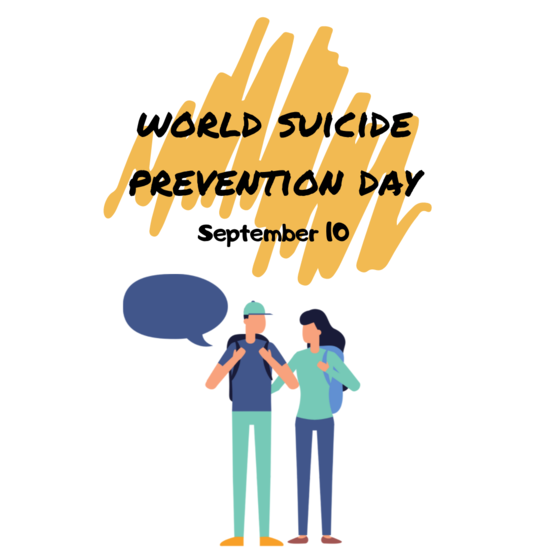 September 10th is World Suicide Prevention Day. Suicide is a very serious topic, and we would like to focus on the word prevention of this important day. Prevention is the act of stopping something from happening or arising. When it comes to mental health, knowing what resources and help are available early on is a very important first step in preventing death by suicide.
You do not need to wait until things are unbearable before you get help. Education is important for understanding when you might need help with your mental and/or physical health. If at any point in your life, you or someone you know are struggling to cope with or are experiencing mental health problems (such as consistent low days, hopelessness, anxiety, grief, avoidance/withdrawal of normal activities, etc.), know that help is available close by.
Did you know that local community services have different options for you to access supports? Access does not have to be long-term or for crisis, diagnosis, and serious issues only. You can access help by going to short-term, solution-focused counselling, which is a form of prevention. Here are some nearby locations that offer this service:
Families First Society Fort Saskatchewan

Short and long-term counselling and therapy for adults, couples, and youth
780-998-5595 ext: 221

Military Family Resource Centre

Families and relatives of military members and veterans

Military members and veterans

Base Mental Health Intake: 780-973-4011 ext: 5332

FCSS Morinville
FCSS Sturgeon County - Living Well Program
Westlock Mental Health

Walk-In Counselling Tuesdays 12 PM to 3 PM
Youth to Adult (youth will require adult consent)
Accessing support early is the first step in preventing death by suicide.
If you or someone you know is in crisis, here are some supports that can help:
Distress Line: 780-482-4357 (HELP)
Suicide Hotline: 833-456-4566
Kids Help Phone: 1-800-668-6868 or text CONNECT to 686868
If you are looking for help with long-term or persistent mental illness or mental health problems, therapy may be an asset to you or someone you know. Here are some resources to help: 
Alberta Health Services Children, Youth, & Family
Alberta Health Services Access 24/7 (Adult)
To find a local therapist, visit Psychology Today